CIOMP and its 11 affiliated companies were prominently featured at the 23rd China International Optoelectronic Expo, held at the Shenzhen World Exhibition & Convention Center, Sept. 16.
CIOMP and affiliated companies collectively exhibited their achievements of the last four years. Exhibits include "Tianwen-1" high-resolution camera, FY-3E solar X-EUV imager, FY-3E solar irradiance spectrometer, FY-3E solar radiation monitor, high spectral and high spatial resolution CO2 detector, Gaofen-6 satellite wide-format camera, Shenzhou 12 spacecraft TV camera/TV sight, AMS-3000 large field of view three-line array stereo aerial camera system, 4.03 meters in diameter-the world's largest caliber single SiC speculum, Airborne hyperspectral imager, DQ-R manipulator magnetorheological series. CIOMP's "Platinum Business Card", the internationally respected optics journal "Light" also attracted many visitors.

On the opening day of the exhibition, Cao Jianlin, deputy director of the Education, Science, Health and Sports Committee of the National Committee of the Chinese People's Political Consultative Conference, as well as Academicians Zhu Shining and Gu Ying of the Chinese Academy of Sciences visited the CIOMP booth. Director Jia Ping of CIOMP and Council Member Sun Shouhong accepted interviews by CCTV and many other media outlets.
As many science enthusiasts could not visit the expo due to epidemic prevention measures, organizers provided live streaming sessions featuring various exhibitors. CIOMP's live streaming session showcased many of its innovations and new products from its affiliated companies. The 2-hour session was watched by a total of 138,000 people on multiple platforms.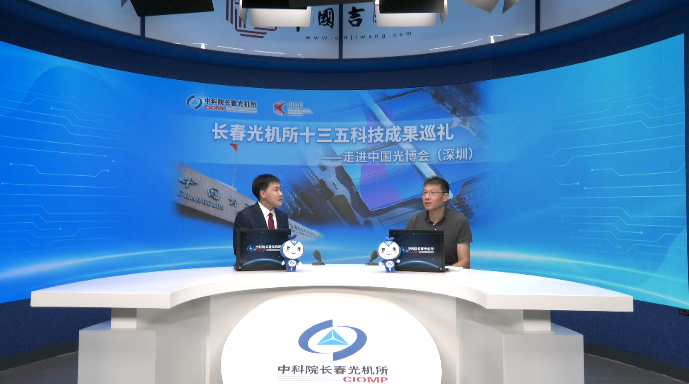 At this year's China International Optoelectronic Expo, CIOMP demonstrated its overall strength and impressive achievements, attracting many domestic and foreign scholars, industry experts and researchers to visit, exchange and discuss, jointly explore and continuously promote the development of the optical industry.