Dr. CHEN Jian from Changchun Institute of Optics, Fine Mechanics and Physics (CIOMP) of the Chinese Academy of Sciences (CAS), has been recognized as a Senior Member of the Institute of Electrical and Electronics Engineers (IEEE).
IEEE recognizes Dr. CHEN as a Senior Member in good standing through December 2021, denoting a personal and professional commitment to the advancement of technology.
Dr. CHEN is an Associate Research Fellow of CIOMP, where he has been working for the past 14 years. He has been focusing his research on optical imaging, image analysis and processing.
For the past five years, CHEN gains progress on infrared dim-small target processing research, mainly on super resolution restoration algorithms of the infrared dim-small target based on POCS. Aiming at solving the super resolution restoration problem of the infrared dim-small target, he optimized traditional super resolution restoration algorithms of POCS and proposed improved algorithms. The algorithms are realized in real-time or near real-time which can be applied in the practical infrared image processing system.
The research productions of this project have important practical significance for the development of infrared dim-small target recognition and tracking. Related research productions were published in Nature.
Since 2008, he has published 39 academic articles, including nine EI articles and two SCI articles. He also holds three patents, and serves as an editorial board member and reviewer for 25 journals, including SCI journals and EI journals.
IEEE is USA-based professional association for electronic engineering and electrical engineering. It prides itself on being the world's largest technical professional organization, and states that it is dedicated to advancing technology for the benefit of humanity.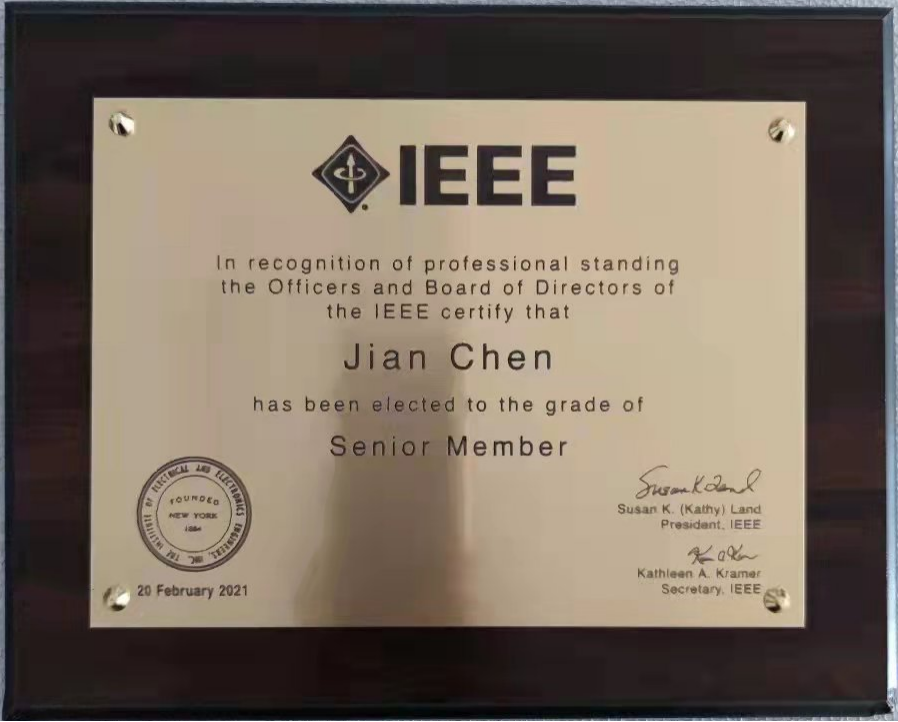 IEEE Senior member plaque (Image by CHEN)