Major developments were made recently in both VR (virtual reality) and AR (augmented reality) technologies, which became the focus of attention. In recent years, MR (mixed reality) technology has also emerged, and optical components play an irreplaceable role in these technologies.
Professor Byoungho Lee, who graduated from the University of California at Berkeley and currently works at Seoul National University in South Korea, has been committed to the development of optical components used in VR and AR technologies. As a pioneer of optical electronics in Korea, he is involved in various well-known academic organizations in the optical field, such as the Optica, SPIE, and IEEE, as well as serving as the president of the Optical Society of Korea, leading the direction of the development of optical industry in Korea. As the ambassador of China-Korea Optoelectronics Exchange, Prof. Lee has also played an active role in Chinese optical events and activities. Over the years, he and the Journal Light: Science & Applications (LIGHT) have made progress together and have both made their names in the vast field of optoelectronics. So where did the story between Prof. Lee and the LIGHT journal begin? And what kind of link does the professor have with Changchun Institute of Optics, Fine Mechanics and Physics (CIOMP)? How did he become a pioneer in optoelectronics technology? These are the questions we are eager to ask Prof. Byoungho Lee.
The future cannot be predicted, but it can be invented, said Dennis Gabor who had invented holography. The pace of human technological advancements has never stopped. Who is to say that we cannot take a virtual tour of the Palace Museum or explore the north and south poles in the future? Scientists like Prof. Lee are working hard to use technology to provide mankind with an intelligent lifestyle, and lead a new technological trend. I am sure we are all looking forward to it.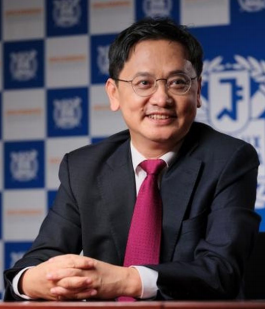 Biography: Byoungho Lee received his B.S. (1987) and M.S. (1989) degrees at Seoul National University and Ph.D. degree in Electrical Engineering and Computer Sciences at the University of California at Berkeley in 1993. He joined Seoul National University as a faculty member in September 1994 and is currently serving as the Dean of College of Engineering of the university. Prof. Lee is a Fellow of SPIE, OSA (Optica), IEEE, and the Society for Information Display (SID). He is also a (Senior) Member of the National Academy of Engineering of Korea and the Korean Academy of Science and Technology (KAST). He is, especially, in charge of managing the young scientists group of KAST (Y-KAST). He has served as the President of the Optical Society of Korea and now is serving as the president of the Korean Information Display Society. His research fields are 3D display, AR/VR display, and metasurface devices. He has received many awards including the National Science Badge of Jinbo-Jang of Korea and the Special Recognition Award of the SID.
Link to article: https://www.nature.com/articles/s41377-021-00683-7