The Nobel Prize in Physics 2022 was awarded to French physicist Alain Aspect, American physicist John F. Clauser, and Austrian physicist Anton Zeilinger, in recognition of their contributions to the research of quantum information, a clear indication that we are entering the era of quantum information.
In China, a scientist has played herald in quantum research since as early as the 1980s. He introduced quantum optics and quantum informatics to China, a virgin land in terms of quantum research back then. That scientist is Academician Guangcan Guo.
Out of personal interests and his good sense as a scientist, Prof. Guo took it upon himself to take on quantum optics when little was known about it in China. He trained many students and launched China's first academic conference on quantum optics, which helped to accelerate the development of quantum optics in China.
In the early 1990s, he took on another challenge, shifting his research focus to the emerging subject of quantum informatics. His work helped to establish China's current leading position in this interdisciplinary field. Today, China leads the world in quantum USB drives and quantum chips.
Now in his 1980s, Prof. Guo is still working tirelessly at the front line of scientific research, doing science popularization, and teaching students. He is ready for the third big challenge of his life—to reveal the mysteries of the classical world and the quantum world.
Next, please follow "Light People" into the mysterious "quantum world", and feel the beauty of science.
Biography: A trailblazer and founder of quantum optics as well as quantum information science in China, Guangcan Guo is an academician of the Chinese Academy of Sciences (CAS), academician of the Third World Academy of Sciences (TWAS), professor of the University of Science and Technology of China (USTC), and former president of the Chinese Optical Society (COS). In 1965, Prof. Guo graduated from USTC and was offered a teaching position there. From 1981 to 1983, he studied at the University of Toronto as a visiting scholar. He was elected an academician of CAS in 2003 and a member of TWAS in 2009. In the 1980s, Prof. Guo took the lead in introducing the theoretical system of quantum optics to China. In the 1990s, he took the lead in focusing on the field of quantum information and undertook the national "973 Plan" project, which led to the positive development of quantum information science in China. He put forward the principle of probabilistic quantum cloning, deduced the maximum cloning efficiency, and successfully experimentally developed the probabilistic quantum cloning machine and the universal quantum cloning machine. In 2021, Prof. Guo won the second prize in the 2020 National Natural Science Award for his Research on Fundamental Problems of Quantum Physics Based on Quantum Information Technology.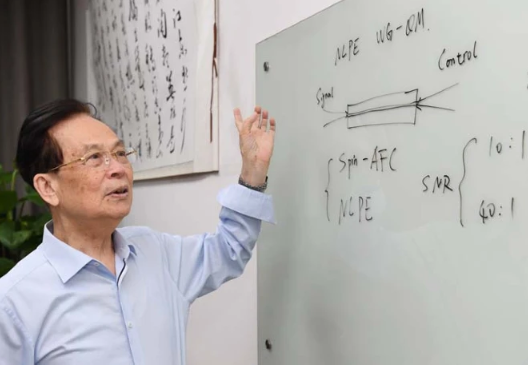 Article links: https://www.nature.com/articles/s41377-022-01045-7