Changchun Institute of Optics, Fine Mechanics and Physics (CIOMP) and affiliated enterprises showcased some of their latest achievements at the LASER World of Photonics Munich, which was opened on June 27, 2023 at the Munich International Exhibition Center.
The CIOMP group made a collective appearance at booth 562 of B1 Hall, with more than 20 products, including the grating, light weight silicon carbide reflector, FY-3 E-star solar X-EUV imager, Lehmann Alpha Solar telescope, "Xihe" space solar Hαimaging spectrometer, Tianwen-1 high-resolution camera, AMS-3000 large field three line array stereo aerial photography system, DQ-5 magnetorheological equipment, S3000 ultra-fast 3D fluorescence imaging system, VCSEL laser, etc. The Light journal, one of the top optical journals in the world, was also featured.
During the four days of the exhibition, many visitors stopped at the booth to check out the products, and talk to CIOMP personnel. These significant display and industrialization achievements with international advanced level have further expanded the German and European markets.
The Laser World of Photonics Munich is the only professional optoelectronic expo in the world that covers all sectors of the optoelectronic industry and showcases the most cutting-edge technology. Various innovative and technologically advanced new products, new solutions, and application technologies made their debut here.
This is the first time CIOMP attended the expo since the breakout of the COVID pandemic. The institute dispatched multiple teams to visit Europe in order to build international cooperation and exchanges and strengthen the connection between CIOMP and foreign partners.
CIOMP's success at this year's expo showcased the strength of its products, promoted its brand influence in the field of optoelectronics, and created favorable conditions for exploring new markets and seeking new opportunities. The CIOMP expo team adopted a scientific and pragmatic attitude, listening to and learning from peers and consumers, hoping to achieve common progress and improvement through communication and sharing, and make contributions to CIOMP's future development.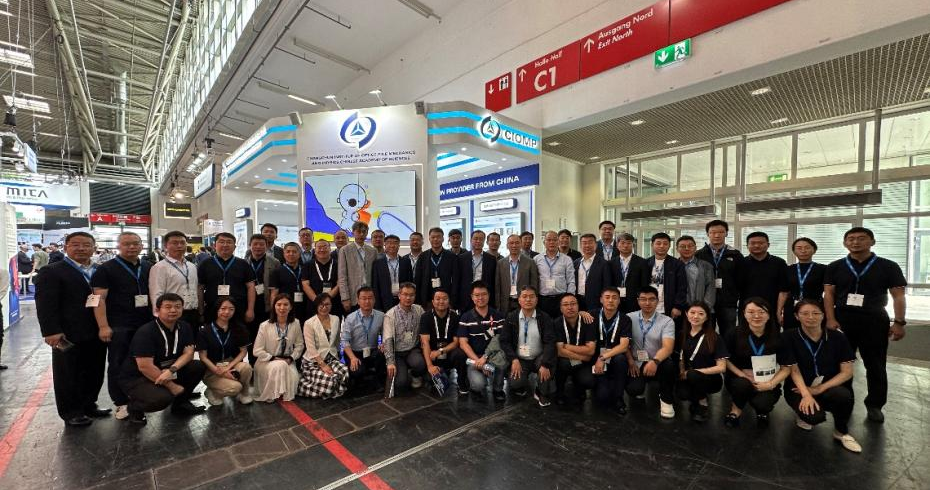 Fig.1 CIOMP Delegation (Photo by GUO)
Fig.2 Explanators introduced CIOMP products (Photo by ZHANG)