From September 10 to 12, 2023, "Ultra Precision Manufacturing of Aspheres and Freeforms-Imaging and Non-imaging Applications (UPM) Workshop 2023" was held at the Changchun Institute of Optics, Fine Mechanics and Physics (CIOMP), Chinese Academy of Sciences (CAS).
The conference was jointly organized by CIOMP and the Fraunhofer Institute for Applied Optics and Precision Engineering (Fraunhofer IOF).
More than 100 Chinese and overseas experts and scholars engaged in the field of ultra-precision optical machining and the development of optical computational simulation software were invited to share their latest research achievements at the workshop.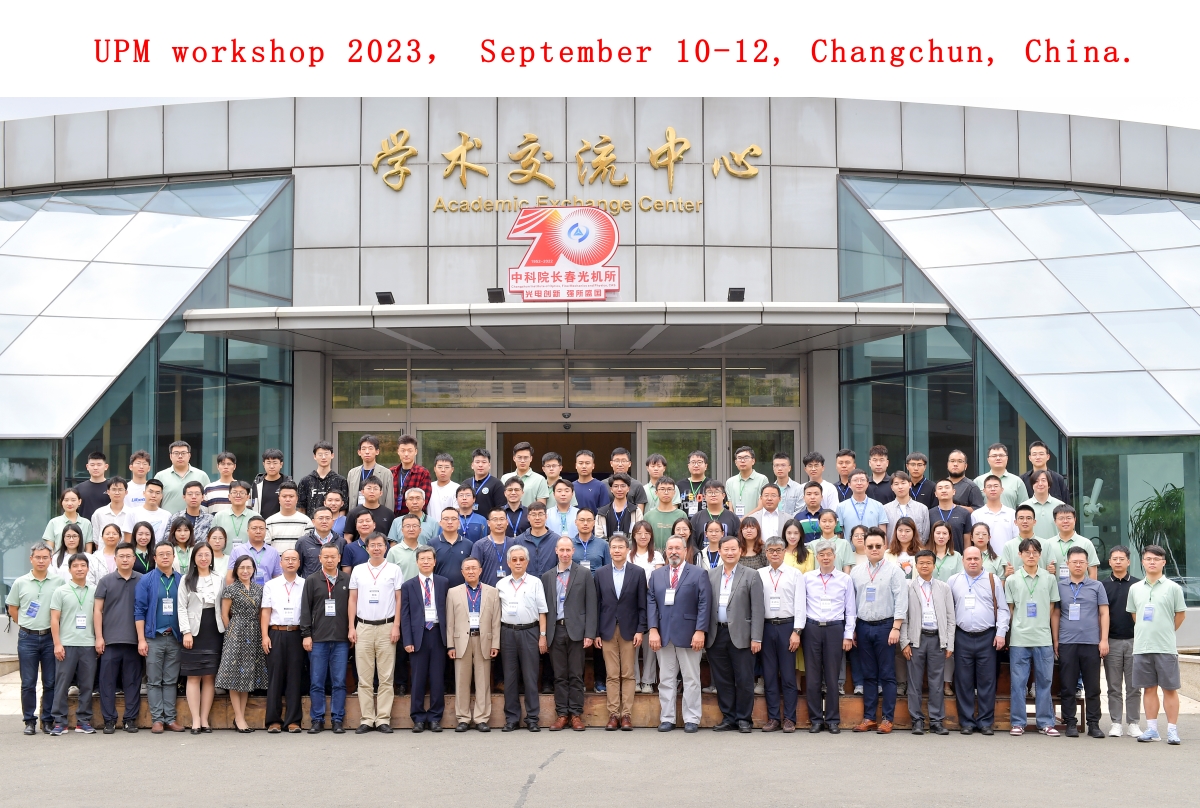 Group photo of UPM Workshop 2023 (Image by SU)
Delivering a welcome speech, Prof. JIA Ping, Director of CIOMP, thanked the guests for their support and wished the conference a complete success. Reviewing the history of UPM workshops, Prof. ZHANG Xuejun, Deputy Director of CIOMP, hoped that the UPM workshop could serve as a platform which could encourage exchanges, discussions and cooperation in the field of optical ultra-precision machining both domestically and internationally.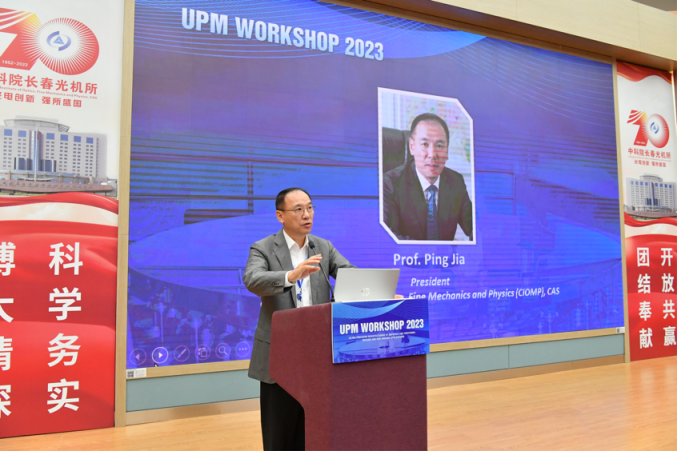 Prof.JIA Ping delived a welcome speech (Image by SU)
Prof.ZHANG Xuejun delived a welcome speech (Image by SU)
UPM Workshop 2023 was divided into 6 sessions, with 23 academic reports and 2 postgraduate lectures. The guest speakers, from Germany, the United States, Japan, France, China, are all working in the most cutting-edge frontiers of their fields. In addition to sharing their research ideas, they also discussed the cutting-edge dynamics and future development direction of optical precision manufacturing and optical computation simulation, and held in-depth discussions on the technical details and development trend.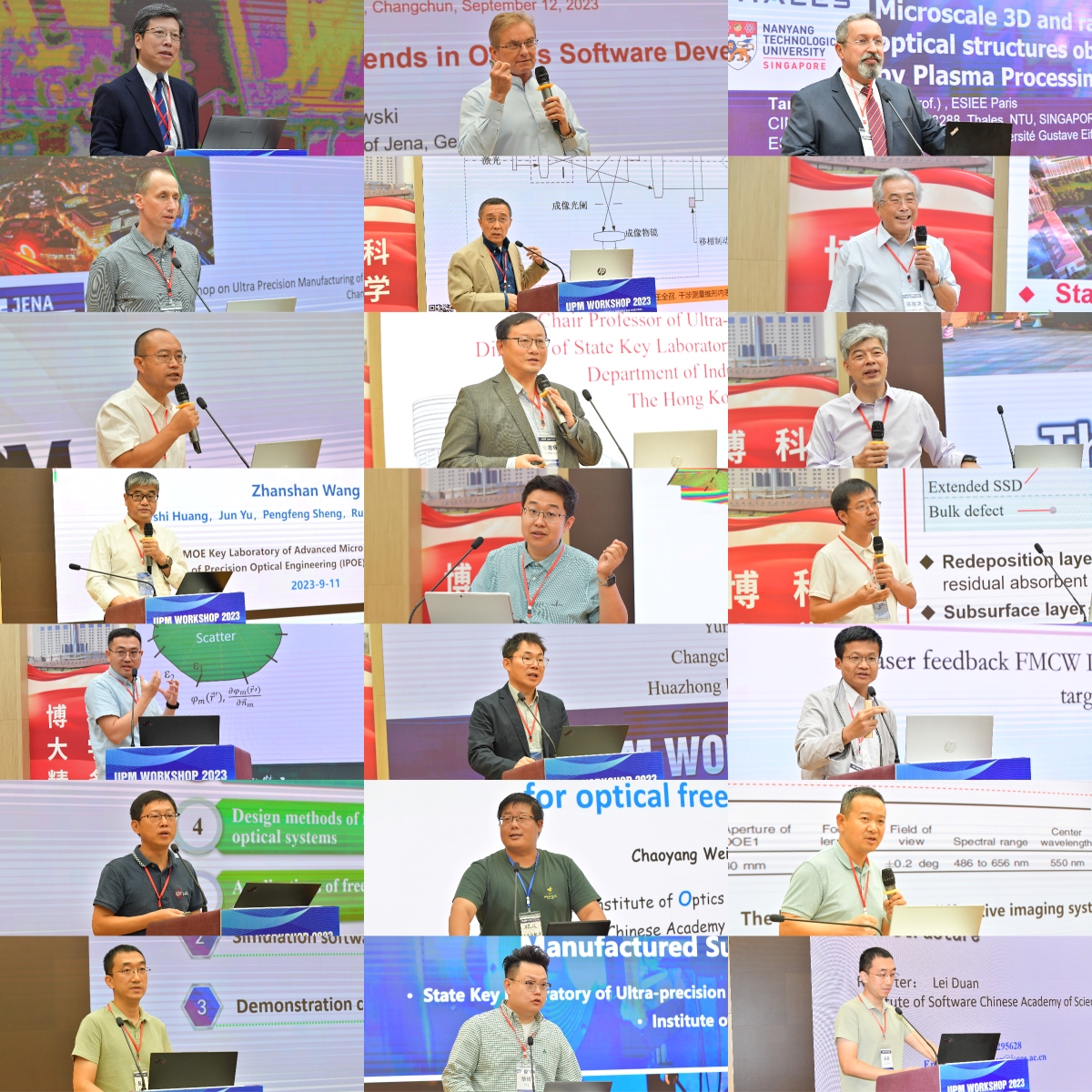 Reporters gave academic talks (Image by SU)
UPM 2023 is the fourth UMP conference held in Changchun. It provides a good platform for academic exchanges and achievements display for researchers,as well as providing young Chinese scientists and students in related fields a rare face to face communication opportunity with international experts.
Photos of experts and leaders at the meeting (Image by SU)
The UPM workshop was initially launched in Germany in 2004, in order to promote academic exchanges between China and Germany in the field of ultra-precision optical manufacturing. Since 2017, it has been held in Changchun, China in odd-number years and Jena, Germany in even-number years.
The success of UPM 2023 was a result of the hard work of three CIOMP units, CAS Key Laboratory of Advanced Manufacturing of Optical Systems, the International Cooperation Office, and the Light Publishing Group.