It was my first time to meet Chinese when I was a Ph.D. student at Connecticut University in America. I was very worried about dealing with them. Days passed until I got to know my Chinese friend Zhe Chen closely. He was very kind-hearted and extremely helpful. I used to call him Jackie Chan because of my great love for this great Chinese actor. I spent two years with him, as his office was sticking to my desk completely. One night in Connecticut, I offered Zhe to have dinner with me in the Egyptian way. My friend very much welcomed this idea and we ate Egyptian food together. He was very happy with this food and he will not forget it until now. I am still in touch with him until now. He is working as a senior engineer at Xiamen UX High-speed IC CO., Xiamen. He invited me to visit his city many times but unfortunately, I did not find a suitable time.
After returning from America in 2011, I traveled immediately after working in Saudi Arabia, but I was very passionate about the Chinese people. I always remember them with the kindness of their hearts, their cooperation, and their continuous hard work. Yes, I followed them in my life's journey until I achieved what I had never dreamed of. Then the surprise comes when I got the offer to work in a new international joint lab at the Changchun Institute of Optics, Fine Mechanics and Physics (CIOMP), Chinese Academy of Sciences in China. I remember it was April 2017 and I did not hesitate to accept the offer despite the objections of some close friends. However, I adore working with the Chinese so that my body and mind get used to continuous and constructive work. Without the diligent planning, and intuitive optimism from everyone, this life changing work experience would not have happened, and would not have opened all the doors it did for me. This trip is a milestone and proof of the great futures we were promised when joining the work.
Changchun is one of the most futuristic cities in the world and it's amazing how fast it has grown. It is a green city, with extensive gardens and parks and with the largest planted forest in China, Jingyue Park. The city has a lot to offer foreign expats, it is a modern city in China with a long and interesting history. Beyond the typical tourist attractions, the city is welcoming to expats and provides ways for them to meet each other and contribute to the community. This makes living in Changchun a great option for expats moving to China.
In August 2017, I arrived at Changchun Airport with my family. A bright, bright face called Zhi Yu, was waiting for us. Dr. Zhi Yu stands in the airport arrival hall and holds a sign with my name written on it. When I approached him, he started to shake hands warmly and determined to move a Shanti cart out of the car. A luxury bus awaited me and my family. Yu gave us many juices, water, and sweets for my kids. Then I felt completely relaxed as if I fell asleep deeply and rested my body and nerves after a journey that extended for long hours. We arrived at the CIOMP expert hotelwhere we stayed stayed for five nights.
Early in the morning, Dr. Yu came to take me to my workplace. I found all colleagues waiting for me in the name of the greeting and expressing their happiness for me being among them. In fact, I was the happiest person in those moments, especially when I entered my luxurious office, which overlooks the Garden of Heaven.
The years passed quickly as if they were lightning because of the beauty of them, so I did not feel them. I never asked for anything but the Chinese colleagues hurriedly executed it as if I was a crowned king on his throne. Everyone just seeks to serve me and make me happy. I cannot deny the virtue of Professor Bai, because she managed to make me feel at home and among my family. And who can forget the young lady, Ms. Wenting Sun, who produces that veteran to repel the attacks with her beautiful smile and good heart? And from my family, we can not forget Ms. Xin Li's smile while searching for a suitable apartment for a family of five. She was and still is a wonderful lady.
At the invitation of our Chinese friends, we attended many important events. I cannot forget Ms. WANG Hui brought our whole family to attend the Chinese Mid-Autumn Festival organized by the Changchun Foreign Affairs Office. In fact, it was a wonderful day, as we listened to making donuts, attending special Chinese shows, and eating a very large amount of fine Chinese food. This wonderful day promised. My friend Dr. Weili Yu invited us to enjoy a sunny day on the banks of South Lake. We played a lot on that wonderful day and boarded boats to see the beauty of the lake. These are unforgettable days, especially since they were with wonderful people.
My oldest son, Begad, I remember when he cried all night because my wife only suggested that we should leave China due to the outbreak of the Corona epidemic. I went to my son's room to ask him why he was crying, so he looked at me and said: I cannot leave China and want to spend the rest of my life here. Can you leave and leave me alone here, my Dad? Then I looked at myself and said to him, "I also love China and the Chinese people, and it is very difficult for me to leave China." And we decided to stay in China.As time fliesand China is proving strong and steadfast against any difficulties.
It is ridiculous that my three children speak Chinese while I do not. Also, I need to take one of them when I go to the shop. Sellers even know me as "the father" and call my son a "translator".
Our life in china brought forth many lessons and each experience we encountered was unique. Through it, we not only were accepted by everyone into the rich traditions and Chinese culture, but were allowed to represent ourselves and our own culture. We were exposed to a lifestyle foreign to our daily routines and met with various friends that were beyond thrilled to receive us as guests, and offer us life changing opportunities to work with them. My words fail to thank those wonderful people who have put their time and effort into making me and my family happy. Thank you, Prof. Bai. Thank you Wenting. Thank you, Ms. WANG. Thank you, Dr. Weili. Thank you, Xin. Thanks to every Chinese who loves his country and seeks to serve her and helps the stranger.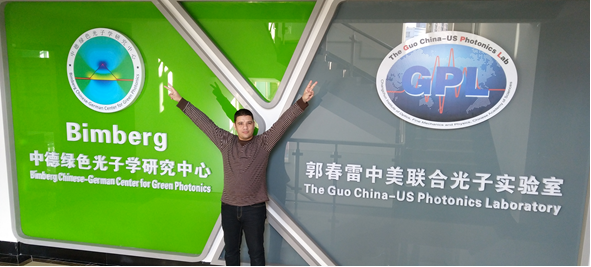 The article was published in the 《International Talent》 magazine.